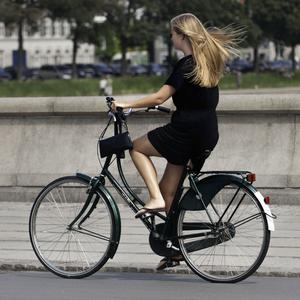 It may or may not be your fault if you get run over by a big screeching vehicle coming at you from seemingly nowhere. It will, however, be the bicyclist who will suffer the most injuries in such an accident.
One doesn't even have to run into a big vehicle to sustain grievous injuries. As a bicyclist, your entire body is exposed as you make your way down the middle of the road, putting you at a greater risk of serious accidents.
If you are fond of cycling around the city, you would do well to do everything you can to ensure your safety trip after trip. Following the rules (here's a list of those that cyclists in North Carolina are expected to adhere to), padding up, and wearing the right helmet together make for a good start. But they are not all that is needed to keep you safe on the roads. You need to also:
Account for Other People's Mistakes
You're smart if you take full responsibility of your safety and security on the road. You're smarter if you go beyond that and preempt other people's actions on the road (which could get a tad tricky at times, we admit).
You'd be surprised at the kind of mishaps that take cyclists down. Running into open doors of vehicles, for example, is among the leading causes of bicycle crashes in some parts of the country. In another incident that no one could have seen coming, a drunk driver drove the wrong way and ran into a group of cyclists, injuring 8 of them in an area "regarded by cyclists as an especially safe place to ride."
One usually gets better at this with practice but now is the best time to start cultivating your cyclist's intuition. In other words this means being super alert about your surroundings so that you can start anticipating people's actions. When you sense someone is going to pull over without warning, slow down. Be especially cautious around blind turns or when passing parked vehicles (so that you don't get "doored" or mowed down by someone backing up their car).
In general, if you don't have a clear view of your surroundings or don't find them free of obstructions, only go fast enough to be able to slow down at short notice to account for unforeseen obstacles.
Installing a headlight on your bike can be especially useful if you ride in the night or live in areas where it's dark most of the day.
Keep a Safe Distance from Big Vehicles
That would include SUVs, sedans, buses, trucks and anything that has great mass as well as momentum.
Don't get in their lane and if possible avoid fast lanes altogether. Drivers of big vehicles may not always be able to spot cyclists in their rear view mirrors and may abruptly turn in the cyclist's direction, knocking him over.
Ride with Conditions in Mind
It's fun to ride when the skies are blue and the wind is blowing in your hair. But conditions are not always helpful or enjoyable.
We know it's difficult for any kind of vehicle to immediately slow down on wet roads. Overcast conditions and rains also affect our visibility. It's not easy for cyclists either. So make sure you factor in longer riding time in your schedule and resist the urge to attempt any daredevilry. Create a big enough safety zone around you and considerably slow down each time you start nearing an obstacle or see a vehicle getting too close to you on the side.
Combat Your Road Rage
Road rage is not always obvious; sometimes it can be latent. But it's stressful in any form and certainly doesn't help your case in anyway. Work on addressing your anger or rage issues before you hit the road.
It's best to glide down the road with a calm and clear mind. That's the fun of cycling, isn't it? Being in the moment and enjoying the world as it passes you by. Don't let your own carelessness or other people's stupidity ruin the experience for you. But if you do find yourself or a loved injured in an accident, contact a personal injury attorney for best counsel. We at Wilson Law, P.A. know how to get you the results you deserve.