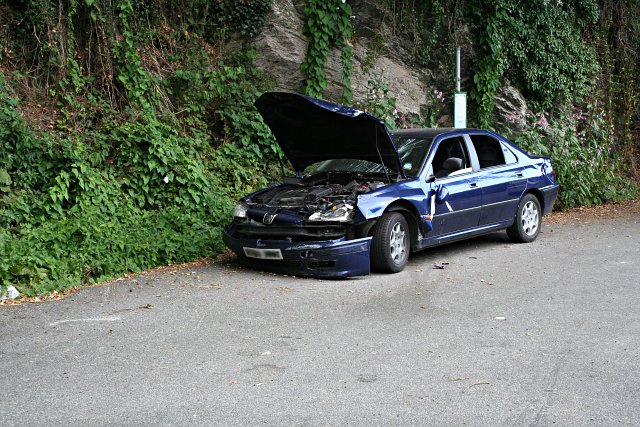 Sadly, there are about 10,000,000 car accidents occurring in the United States each year. About 2 million of these accidents result in serious personal injuries. The insurance industry predicts that most drivers will be involved in an accident about every 18 years. So, what do you do when rear-ended or t-boned by a driver texting on his phone or when a drunk driver forces you off the road? First, take a moment to catch your breath, collect your thoughts and try to remain calm. After gaining some composure, it's important for you to do the following:
1. Call 911 and do your best to tell the dispatcher where you are located.
2. Once a police officer is on the scene, tell him the facts as you know them to be but do not admit fault and do not speculate.
3. If physically able, take pictures of yourself, your vehicle and the other driver's vehicle.
4. Notify your insurance company.
5. Seek medical attention even if you're not feeling so bad. You may not feel bad 30 minutes after the accident, but you may feel really bad the next day especially if it was a high impact collision.
a. If you don't immediately seek medical attention after the accident, do seek medical attention as soon as you notice something is wrong. For example, if you don't have a headache immediately after the accident but start having serious migraine type pain the next day, seek medical attention. If you can't get in with your primary care doctor, seek treatment with an urgent care physician who will have the ability to refer you to a specialist.
b. If you are mainly experiencing muscle stiffness and soreness, schedule an appointment with a chiropractor. A chiropractor also has the ability to perform x-rays.
6. Do not speak with any insurance adjuster from the negligent driver's insurance company.
7. Call a personal injury attorney to assist you in pursing a claim. The insurance company adjusting your claim will have access to many lawyers.
At Wilson Law, P.A., over the past 18 years, our attorneys have successfully resolved hundreds personal injury claims arising from vehicular accidents. Often time, catastrophic personal injury claims can be resolved without litigation. However, at Wilson Law, P.A., we only accept cases that we are willing to take to trial. That's what sets us apart from other personal injury law firms.
If you or a loved one has been injured as a result of a vehicular accident that was not your fault, contact us today for a free consultation.
Your insurance company is obligated to fully investigate your claim in a timely manner. Are they giving you the runaround? Read more about what to do when insurance companies engage in "bad faith" conduct.