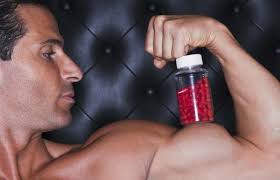 Many pharmaceutical companies rush new drugs to the market without properly evaluating side effects. Additionally, medical professionals are financially encouraged to prescribe medications that their patients may not need. Testosterone treatments are the latest drugs to come under scrutiny. Recent studies have found dangerous side effects.
Testosterone treatments such as topical gels, transdermal patches and injections claim to bring testosterone levels back to "normal", increasing libido and eliminating other "low T" symptoms. But what is "normal"? T-levels vary per individual and it's normal for them to decrease with age, particularly in men over 40. Low T symptoms such as grumpiness, low energy and low libido are vague causing men to believe they need treatments for low testosterone, even if they don't. These treatments can be dangerous and are often not worth the risk of other health problems. The FDA is now evaluating new risks associated with previously approved testosterone treatments.
Dangers of testosterone treatments
Testosterone drugs have been associated with increased risk of:
● Stroke
● Heart attack
● Heart disease
● Cancer
These risks have devastating effects on your health and well-being and can also lead to death. Young children who are accidentally exposed to these treatments through skin-to-skin contact may also experience early puberty and other health problems. The FDA is currently investigating and re-evaluating these medications; and, is encouraging medical professionals to report adverse events to the agency.
Additionally, men are encouraged to forego these treatments unless they have missing or damaged testicles or abnormally low testosterone laboratory values. A mere decreased testosterone level is considered to be a normal part of the aging process; thus, not an indication for testosterone therapy.
Already using or have used testosterone treatments?
If you are already using or have used testosterone treatments, you could be at risk for these devastating side effects. Even if you aren't experiencing adverse effects, we recommend contacting your doctor immediately to evaluate your need for testosterone treatment. If you have already experienced a heart attack, stroke or other medical problem that you believe may be associated with testosterone treatments, contact Wilson Law, P.A. right away.
Wilson Law, P.A. has experience dealing with dangerous medications and medical devices and has successfully handled cases involving Fen-phen, Baycol, Vioxx, Celebrex, Bextra, DePuy ASR hip implants Transvaginal Mesh devices. We are investigating cases involving testosterone treatments such as AndroGel. You should not have to pay the ultimate price of your health and well-being because a pharmaceutical company didn't properly test their product and/or warn physicians and patients of the side effects. Contact us for a FREE consultation today.