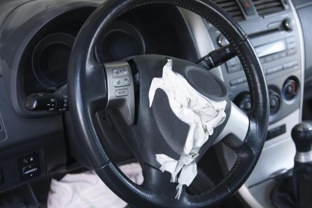 Already one of the largest recalls ever with more than 20 million affected cars, the defective Takata airbag recall is expanding yet again. While the previous recall targeted older cars with model years no later than 2008, recent findings have now prompted a recall expansion that will include even some of the newest 2016 models. This means that even if you bought a brand new car, your safety may be at risk or you may have already been injured in a defect related car accident without realizing it. At Wilson Law, P.A., our experienced Raleigh car accident attorneys can help you determine if you have been a victim of a defective Takata airbag.
Initially, the airbags were only believed to become defective with age, becoming susceptible to shrapnel expelling explosions, however, newer evidence indicates that the air bags have an inherent design flaw related to the material used to inflate the bags making even the newest airbags defective and dangerous.
The recall is affecting 12 automakers including major manufacturer Honda. The automaker has announced it will recall 2.2 million newer Honda and Acura models, but has also said that it will be summer before there are enough replacement airbags to make all of the swaps needed.
Additionally, many of the roughly 1 million vehicles that have already had an air bag replacement may still have a defective bag that will need to be replaced again.
The defective airbags have already been linked to nine deaths in the U.S. along with numerous serious injuries. As more information is revealed about the defect and the expansion continues to grow to include more vehicles, it seems that there will be no easy solution for owners, dealers or automakers.
If you have been involved in an auto accident that may have been caused or worsened by a defective, exploding Takata airbag, you may be entitled to compensation. Please contact Wilson Law, P.A. using the form on this page or call (919) 800-0919 today to schedule a free initial consultation. We serve clients in Raleigh, Durham, Chapel Hill and throughout North Carolina.