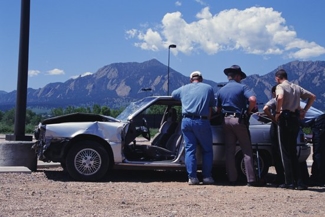 The National Highway Traffic Safety Administration (NHTSA) has recently launched an investigation into complaints about defective doors on approximately 400,000 Ford Focus vehicles. According to the complaints, these doors don't latch properly and in some instances have even opened while the vehicle was moving.
The investigation is currently limited to Ford Focus vehicles manufactured in 2012 and 2013. According to the NHTSA, there have been 73 reports of problems associated with these door latches. One driver reported suffering an injury when the door rebounded while he was trying to close it. Some drivers indicated that they need to tie their car doors down to prevent them from opening unexpectedly, and others stopped driving their vehicle due to these safety concerns.
One driver who reported the issue to Ford was told that the manufacturer was aware of this dangerous problem, but a recall wasn't imminent. According to a spokesman from Ford, these defective latches are similar in design to ones on other vehicles which have been recalled; however, they were manufactured by a different parts supply company. Depending on the results of the NHTSA investigation, the agency may determine that a recall is warranted.
If you've been injured in a car accident caused by one of these defective autos, you may be entitled to recover compensation for your damages. The attorneys at Wilson Law, P.A. have made product liability cases a primary focus of their practice. Kimberly Wilson White knows the sophisticated issues associated with these cases and will fight aggressively to recover the compensation you deserve.
Please contact Wilson Law, P.A. using the form on this page or call (919) 800-0919 today to schedule your free defective product injury consultation. We serve clients in Raleigh, Durham, Chapel Hill, and throughout North Carolina.